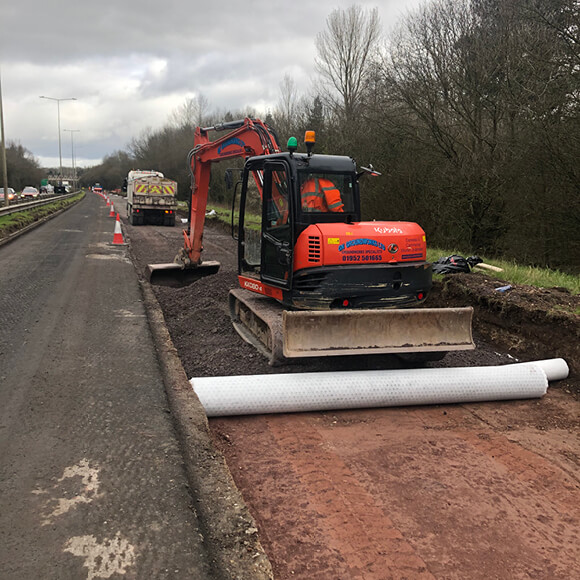 A442 Randley to Strichley
Shropshire, UK
Inclusion of a Tensar mechanically stabilised sub-base layer in carriageway reconstruction to reduce future maintenance operations.
Benefits
45% reduction in pavement foundation thickness
1300t reduction in imported fill
50% increased traffic capacity
Client's Challenge
After a decade of repairing potholes on the southbound side of the A442 between Randlay and Stirchley in Telford, Telford & Wrekin Council needed a long-term solution to keeping traffic flowing. Along with resurfacing and new drainage, it was decided to completely rebuild 556m in the first lane of a dual carriageway
Tensar Solution
Tensar Pavement Optimisation, involving mechanical stabilisation of the reconstructed section's granular sub-base, delivered an alternative pavement design that achieved in-service traffic capacity requirements, while eliminating need for a capping layer that reduced pavement foundation thickness by 45%. A geocomposite of stabilisation geogrid with non-woven geotextile backing was laid in a single layer, providing both mechanical stabilisation and resistance to upwards migration of fines into the pavement structure due to groundwater conditions.